Enjoy Detroit Mural Art on Brick Face, framed in Historic Detroit Reclaimed Wood, Print wall hanging of iconic vintage Detroit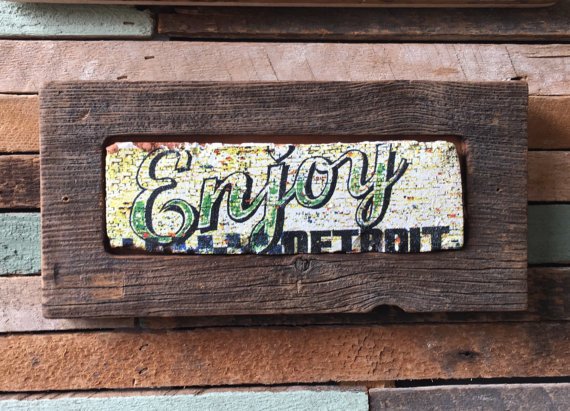 Enjoy Detroit Mural Art on Brick Face, framed in Historic Detroit Reclaimed Wood, Print wall hanging of iconic vintage Detroit
Detroit Clippert Brick Co. sliced face brick - circa 1907, mounted in a reclaimed wood pocket frame showcasing original art, printed directly onto the brick face. Can be hung on a wall or propped on a shelf.

A great gift for any Detroit enthusiast, this authentic Clippert brick that was originally made on Detroit's southwest side.

Our historic reclaimed wood is sourced from various homes prior to their demolition - a true story of repurposed or recycled art material.

Due to the recycled and handmade nature of the piece, each one may vary slightly. If certain colors or marks in the wood are a concern to you, please inbox us and we will be happy to send you photos of the current stock availability.

Measures approx 11.5" x 5.5"-6" x 1".

Reviews